Automobile Independent Medical Evaluations
20 years of experience performing over 30,000 examinations and reviews.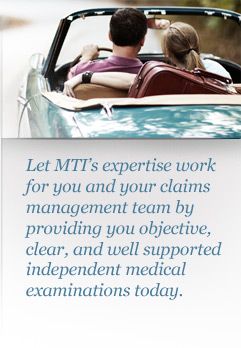 The estimated cost of medical treatment associated with automobile accidents in a given year is estimated to be $35 billion. How are you to be sure of the exact causality of the injuries in question and the appropriateness of the treatment? Let MTI's expertise work for you and your claims management team by providing you objective, clear, and well supported independent medical examinations. MTI ensures that all Independent Medical Examinations are performed by well-trained and experienced examiners to ensure that your final report specifically addresses the injury/condition in question and all exam findings and requested opinions are clinically accurate and medically sound. MTI's team of Quality Assurance Staff reviews each report to assure a quality report.

Our clients range from Fortune 500 insurance companies, third party administrators, State agencies, self-insured companies, insurers, unions, and the best legal firms. With 20 years of experience, MTI has performed tens of thousands of examinations and reviews. MTI has always held itself to the strictest standards of clinical integrity and objectivity. Our foundation of success is directly attributable to our commitment to bring professionalism, reliability and impartiality to the medicolegal services market. As we have grown and progressed, MTI has developed and solidified a service team that is capable of consistently applying best practices.
MTI offers convenience, expertise and quality to its clients:
Referring parties can schedule an independent medical exam at any of MTI's 16 Ohio locations with one telephone call or by filling out the online scheduling form, saving valuable time in the management of cases.
More than 80% of all Ohioans (That's over 9 million people!) live only a short drive from one of our locations. You can schedule an auto injury exam in Cleveland, a workers' compensation exam in Columbus, and a veterans' exam in Cincinnati: all during the same phone call.
The reports provided to referring parties are clear and concise. We use objective medical standards such as those found in the Official Disability Guidelines and all reports are quality reviewed before submission.
The physicians on staff specialize in orthopedics, physical medicine and rehabilitation, occupational medicine, emergency medicine, family practice, and internal medicine. This diversity of backgrounds allows us to evaluate a large variety of injuries and conditions.
Turnaround times for reports are among the best in the nation. If a deadline looms, we have "rush" options available as well.
The support staff at MTI is professional and experienced and can be counted on for high quality support.